Expect a Unique Experience Working with Page Custom Homes
When you work with Page Custom Homes, not only will you get a distinctive design and top quality build but, you'll also get a memorable experience. Our goal is to make the process as stress-free as possible and to give you a positively unforgettable experience. We understand that any size build can be daunting but, you can depend on your Page Custom Homes Team to do all the heavy lifting when it comes to managing the short-term and long-term aspects of your project. We also understand that every client is as unique as their project and we'll make sure you're comfortable every step of the way and that you're confident in your decisions and selections.
Steven D. Page, AIA - President and Owner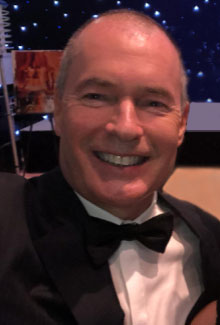 Credentials and Interests:
Illinois registered Architect, with an Architectural degree from University of Illinois

Member of the A.I.A. (American Institute of Architects)

Prior Employment History: Kober/Belluschi Architects; Loebl, Schlossman & Hackl Architects; Equity Properties & Development; Page Builders

Free time activities include: running, biking, swimming, sailing, and skiing
"I absolutely love my work. My goal in life is to wake up every morning and create something of distinction and quality that did not exist before."
Steven Page | Tradesman Transformed into Architect and Custom Home Builder
My father Charles Page, whose name is synonymous with grand homes along Chicago's North Shore for over five decades, was the inspiration that lead me to follow the family tradition of fine home design and building. In the Page family business, I started as a construction laborer, working my way up to become a skilled carpenter, because I believed that knowing the process of building great homes starts from inside up as it is critical to the success of fine homebuilding. I continued working in the Page family business while I earned an Architectural Degree from University of Illinois. After graduation, I started working with large architectural firms designing shopping centers and high-rise office buildings in Chicago. I was proud to be a part of the design team of the Prudential 2 tower project, which was honored with eight awards including the Best Structural Award from the Structural Engineers Association of Illinois. Working with top Chicago developers helped me to expand my design and build experiences and round off my business background.
While it was exciting to be involved with these very large and impressive commercial projects, I decided to go back to my residential roots and join my father and siblings to continue the Page family tradition of designing and building beautiful and high quality homes on the North Shore and beyond.
Now, as the owner of Page Custom Homes, I continue to make homeowner dreams come true and I love every single minute of it. My commitment to my customers includes a unique design tailored to their needs; quality construction that will last for decades to come; attention to the smallest of details; and, a determination to make the entire process as easy and enjoyable as possible. Plus, I guarantee everything that I do.